Flowering Nightshade
Demo v3 Release (Including New Route Reveal!)
---
There have been a lot of changes since the last demo (even if not to the extent of the previous changes), so even though Kiku's route is not yet complete I think I'm going to put out what there is right now as a new demo. This demo is also a bit exciting because it introduces a new route that I've been keeping secret for a while, so I'm curious what people will think of that reveal.
Changes/Additions for Demo v3:
UI enhancements, particularly for the main menus
Additions and revisions for existing routes (Izumi and Nanami)
First section of Kiku's route
A new love interest, including the first section of her route
Planned Upcoming Features (Demo v4 onward):
BGM placement improvements
Full routes for all seven love interests
Three(?) bonus routes that focus on couples not involving Himeka (subject to change)
New Love Interest: Orino Murakami
A bakery store owner and Nanami's manager. Her calm maturity masks a resilient soul that is no stranger to judgement and scorn.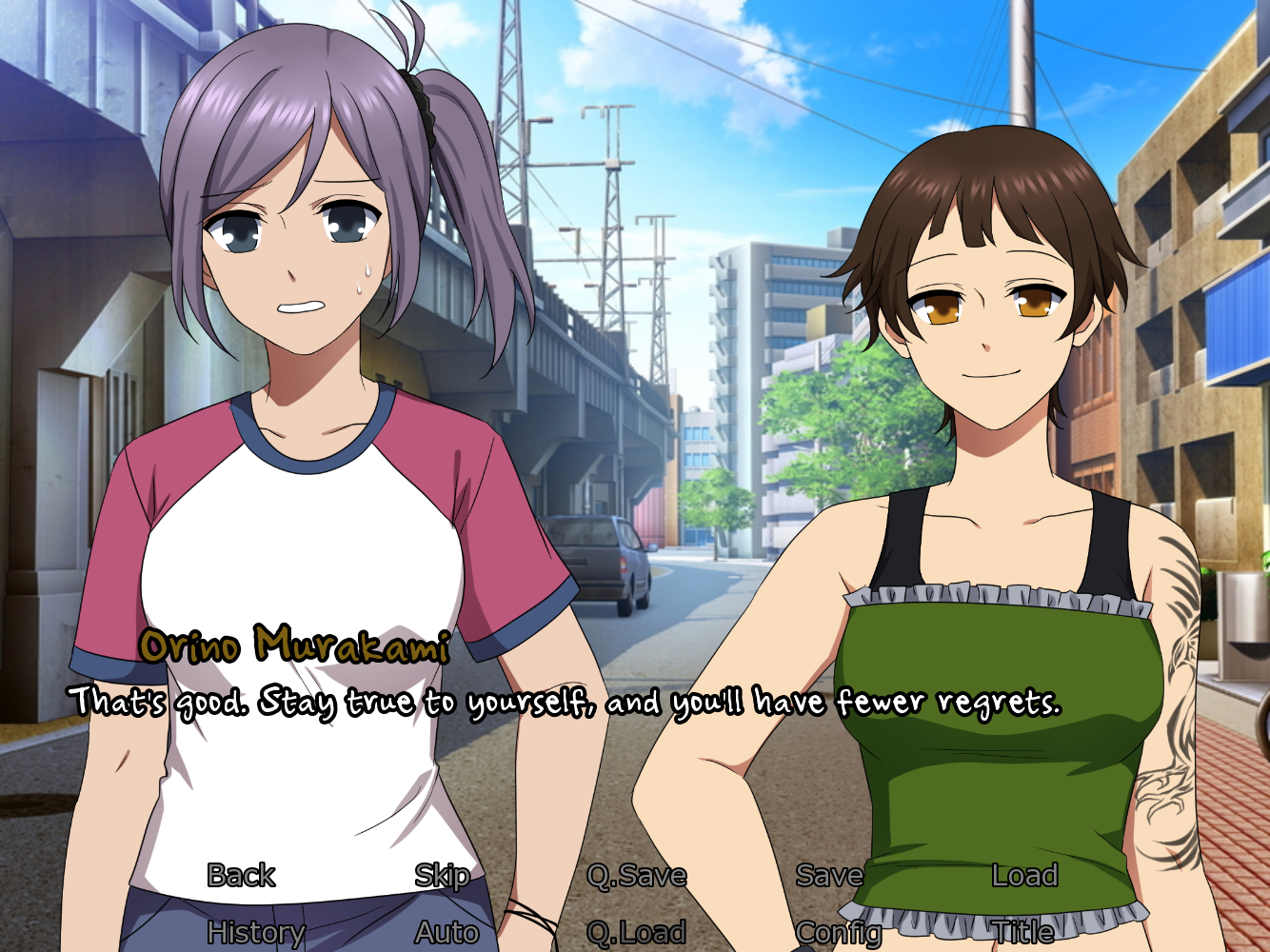 Nanami's boss, formerly referred to simply as "Baker" in the game dialogue, is now one of the main love interests! Like any other route, her route can be started from the stories menu once the player has finished the prologue. This route continues from a world state where Himeka didn't find a girlfriend in Blooming Nightshade, leading her to get closer to Orino after the latter is dumped by her former lover. While Himeka sees nothing objectionable about Orino, spending time with her quickly teaches Himeka about how even good people can be treated as dangerous or unwelcome.
Dev Notes: Nanami's boss has had a name internally for a long time, maybe even as early as Demo v1. Early on, the standard for the script was to not have any actual dialogue from unnamed minor characters, so Orino quickly got an internal name so that I'd have something to work with if her name needed to come up. While a lot of the practices that led to Orino getting a name and portrait are no longer in place as of this version, Orino's role in Nanami's route made me wonder what it would be like to have her as a focus character. While the returning characters are around 20-22 years old, Orino being in her mid-thirties allowed for a love interest that was more secure in their worldview and interests. So while the other main routes focus on the love interest becoming an adult with Himeka supporting them, Orino's route focuses slightly more on Himeka's growth. I also really liked the idea of a Himeka that fell in love with a much older woman, as well as continuing a storyline where Himeka didn't have a highschool romance. Also, while some of the routes make note of darker topics like social stigmas and depression, Orino's route might explore those a little deeper without going too far into drama or tragedy territory.
That's about all for this update. Would anyone be interested in reading longer-form updates like this, with notes about the decision process and such? Or was the old format just fine?
Either way, I hope people enjoy the game. With at least part of four routes now available, the game is starting to shape up into a real product.
Files
Flowering Nightshade Demo v3 (APK)
88 MB
May 19, 2020
Flowering Nightshade Demo v3 (PC-MAC)
95 MB
May 19, 2020
Comments
Log in with itch.io to leave a comment.
Hi! I just wanna say that I love your games. Keep it up!