Flowering Nightshade
Changes coming to Demo v2 (and some future plans)
---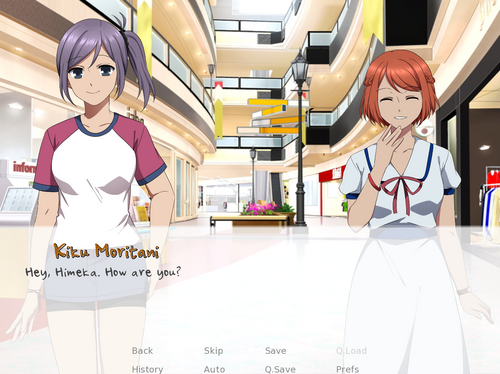 Now that Blooming Nightshade v10 is out, I've been getting back into working on the next version of this game. Due to the delay caused by going back to Blooming Nightshade for a bit, I thought it might be a good idea to share some of the details of how this game will be changing in the next version:
The entirety of Izumi, Kiyomi, and Nanami's routes are planned to be complete (including some changes and revisions)
Starting the game in a romance will lock Himeka into that romance (the player cannot start a different romance)
A character route to follow for the rest of the game must be selected after the prologue and first two months (this is automatically the character Himeka is dating if Himeka has a romance from the first game)
Number of time slots for the first two months after the prologue has been reduced to 2 (was 3)
Initial portrait placements for most available scenes
Nudity toggle added (replaces nude portraits with underwear variants if nudity is turned off)
Preliminary work for including side pairing events (to be included in a later version)
As for features that will be added after Demo v2, these are the ones currently planned:
Atsuko, Kiku, and Shiori routes
Side pairing events that play between certain route events
A bonus mini-route (planned to be unlocked from finishing a friendship ending)
Lastly, here are some of my "nice to have" features that may or may not appear in later builds:
Scene gallery for side pairing events
"Afterstory" or continuation routes for each romance ending
Hopefully that clears up the plans for the future of this game. I'm a little embarrassed how long the fairly rough Demo v1 has been representing the game so far, but hopefully Demo v2 will be ready in the near future to show how the game is changing. In the meantime, I'd recommend trying out the update to Blooming Nightshade. Either way, I hope people continue to enjoy these games!